Easter
Eldemore has a very special Easter release every year. Special Boxes are released with random pets created by different Staff member. Along with that comes a user made guessing game. The staff gives hint which pet they may created, and our users guess who did what.
Ugly Duckling By Fawx

Spring Phoenix By Mira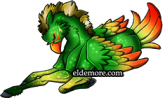 Sakura Bonsai By Scar

Ad blocker interference detected!
Wikia is a free-to-use site that makes money from advertising. We have a modified experience for viewers using ad blockers

Wikia is not accessible if you've made further modifications. Remove the custom ad blocker rule(s) and the page will load as expected.