Overview
The Overview of your account is another important function. It will help you to figure out how to change your board preferences and how to customize your profile.
To find the Overview you may click on the 'Account' link on the left in the black headbar.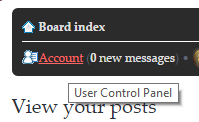 This link will guide you to the front page of your User Control Panel, the Overview.
User Control Panel - Overview
Categories These are the different categories of The User Control Panel, There are the Overview, Profile, Board preferences, Private Messages and your Friends & Foes.
Front Page The front page is the first page you will visit when you arrive at the User Control Panel.
Manage Subscriptions Here you can manage subscribed threads.
Manages Bookmarks Here you can manage your bookmarked topics.
Manage Drafts Here you can manage your saved drafts.
Friends If you set user as your friends, they appear to be in this list.
Important Announcements Here you can view the Global Announcements which are the most important ones. Be sure to check them daily to don't miss something out. Note: Those Global Announcements can also be found while you browse through the different forums.
Your Activity Here you can view your activity.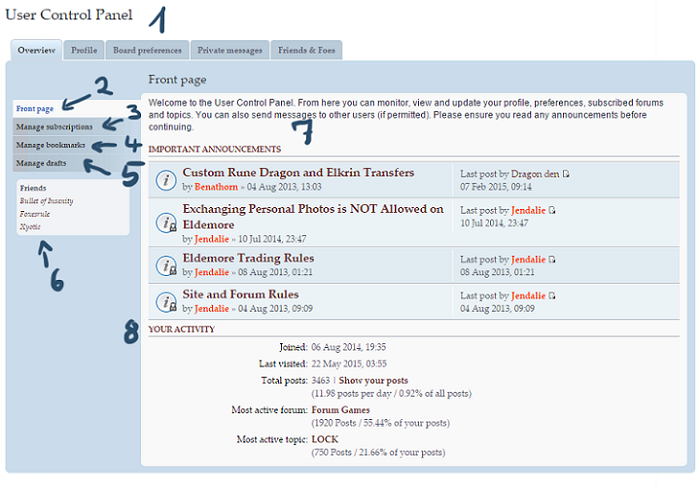 Important Links and Threads
Ad blocker interference detected!
Wikia is a free-to-use site that makes money from advertising. We have a modified experience for viewers using ad blockers

Wikia is not accessible if you've made further modifications. Remove the custom ad blocker rule(s) and the page will load as expected.