Rune Dragons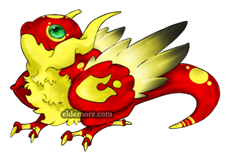 Rune Dragons
are small bird-like dragons with rune marks upon their wings that carry a bit of Eldemore's magic within them. These creatures are vast in numbers, with a variety of breeds throughout the lands. Many Runes are paired up with their
Rune Bearers
and share their magic with the human host. Most stay with their human till they pass away. Very few Bearers are seen without at least one Rune by their side. Rune Dragons are quite popular with young children due to the legends of the very first bonding in Eldemore between a child and a young Rune hatchling. It is because of this that many favor this creature as they symbolize the cooperation and friendship that is shared between human's and their chosen bonded companion.
(By Benathorn )
Ad blocker interference detected!
Wikia is a free-to-use site that makes money from advertising. We have a modified experience for viewers using ad blockers

Wikia is not accessible if you've made further modifications. Remove the custom ad blocker rule(s) and the page will load as expected.